Health And Safety updated: 6/22/2021
This document is a summary of the safety standards and programming procedures that SwimAmerica-Davis Swim School has implemented since we officially reopened for swim lessons. These focus around social distancing, disinfecting, and other preventative measures, such as face coverings. It is subject to change based on updated information and recommendations from local, state, and federal authorities.
FAQ's HEALTH & SAFETY UPDATE 2020
Personal protective equipment
---
Face coverings will be worn by all unvaccinated staff.

Face coverings are required for unvaccinated adults and children over the age of 2.
Face coverings should NOT be worn in the pool.
Face shields will be worn by swim instructors while in/around the pool. For your comfort, face shields are available for purchase.
Acrylic sneeze guards will be on the Front Desk counters.
Pool Dividers will separate classes and swimmers in mixed classes.
---
Family changing room, showers, viewing area & FishBowl
---
We are counting on families to respect social distancing while in the lobby, on the pool deck and changing areas.
Please come dressed and ready to swim to reduce the number of people in the changing area before and after your lessons.

Changing areas are available should you need to change before or after class.
Please dry off, put your face covering back on and exit the building following your lesson.
Bring a minimal amount of personal items into the swim school.
The number of chairs in the viewing area have been reduced to allow social distancing.
Parents may leave the facility while their child is in lessons, but will not be able to change after lessons.
---
Who can come to my child's swim lesson?
---
If a baby swims with one parent, can the other parent attend? One family attendee is allowed while the other caregiver is in the pool.
We ask that you notify us ahead of your lesson if you intend to bring guests.
We understand that this may be an inconvenience for your family and we will work with you to schedule your swimmers to best suit your family.
---
New and continued cleaning procedures
---
Increased frequency of disinfecting all highly used surfaces such as countertops and door handles
Our Staff continue to clean throughout the day.
Our SwimAmerica staff will be disinfecting all high-traffic surfaces.
We have installed additional hand sanitizer stations throughout our building.
---
Do I have to wear a mask to enter your facility?
---
Per Yolo County guidelines: If you are VACCINATED you do not need to wear a mask. If you are UNVACCINATED and over the age of 2, you must wear a mask while in our facility.
---
New traffic flow within the building
---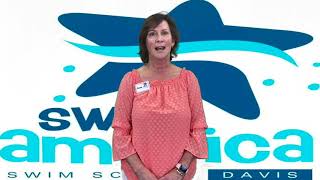 ---
Other procedures for a safer environment
---
Adjusted teaching techniques to practice proper distancing while maintaining safety.

We have added pool dividers to help separate classes and mixed groups of swimmers.

A "mixed group" is defined as: classes with swimmers from different households that are not quarantining together.

We will be asking our families to please use their parent portal to book and pay for lessons and manage their accounts virtually. You and your family will be able to view skill level and class progress, mark yourselves absent, and update your credit card/direct debit authorizations! Of course, we will still offer our same booking process via the wonderful sales team at the front desk, but we want to give our families the option of managing their SwimAmerica experience from a distance!
---
Who are we offering lessons to right now?
---
At this time we are offering Infant/Toddler, Goldfish, Parent Led 3 Year Old,"Essential" level 123's and "Essential" level 4's, levels 5 through 10, Stroke School, & Adult lessons. We chose these classes because it is possible to teach these students while following social distancing guidelines. Our coaches will be wearing face coverings while on deck or face shields when in the water. We will be teaching a reduced number of classes per each 30-minute time slot, which will help us maintain 3 feet of separation in our building and in the water. We ask that our Infant/Toddler and Goldfish students come with only two caregivers each week. We may have additional instructions, in which case, we will send you detailed information as needed. ​
---
Is my child SAFE from COVID-19 in the pool?
---
According to the CDC (Center for Disease Control), Covid-19 is not transmittable through properly-maintained pool water:

https://www.cdc.gov/coronavirus/2019-ncov/community/parks-rec/aquatic-venues.html

We are addressing respiratory transmission of the virus by modifying our program to reflect social distance guidelines.
Our indoor pool has an optimal ventilation system that mimics outdoor air.
---
How are you keeping your staff safe?
---
All Staff members are required to be tested for COVID-19 on a weekly basis and many are already vaccinated!
We have adjusted our teaching techniques to include proper distancing and minimal touch while maintaing water safety.
Installed protective sneeze guards at our Front Desk.
Retail: Swim gear, such as goggles or happy nappys, will still be available for purchase on site or via our online store (accessed through your Active Carrot account). No drinks or snacks will be available at this time.
Signs posted about proper handwashing techniques. Staff will be required to wash/disinfect hands before every shift and as needed throughout their shift.
We will be taking each staff member's temperature before the start of every shift. We will send staff home if they have a temperature of 100F or higher.
Until further notice, we will be taking credit cards (Visa,Mastercard,Discover)

ONLY

or Apple Pay. You may use American Express in our online store.
---
How many classes in the pool at one time?
---
We have significantly reduced the number of classes in the pool per half hour until further notice.
---
New enrollments, moving to a different day and time.
---
We are NOW taking new enrollments! If you would like to register, please use our online parent portal or give us a call at 530-759-1214. If you need to move your class permanently to a different day or time, we will work with your family to find a solution. Please understand that by limiting class moves and makeups, we are able to reduce the risk of cross-contamination.
---
---